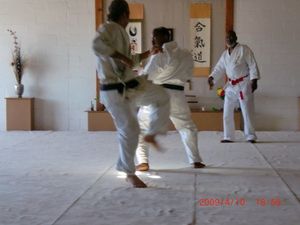 Welcome to the SanDoKai Martial Arts & Cultural Center,

the SanDoKai Dojos,

and to the practice of possibilities
The gift of heritage ... and the promise of future gifts to the families and communities that we serve !

SanDoKai (san-doo-ki) is a community of karate practitioners that is committed to promoting the dojo as disciplined centered house of the way that promotes and encourages martial arts training and discipline as a means of gaining a deeper sense of awareness of our connections with nature and each other. We do so by creating a training environment that is intergenerational and that celebrates diversity, art, and culture from the grassroots up.

Our Martial Arts Objectives
The objective of the SanDoKai Community is to create environments (dojo's) where individuals are respected; where it is safe to make changes that allows the student to stretch to their fullest potential.

Goal of the Dojo


To encourage and demonstrate an environment where students are open to constructive critique and guidance in developing healthy physical and social life styles of purpose and rewards. 
Enter the Way
You are visitor number: 8711